Cabin Coffee Café!
Need a caffeine pick-me-up before school? Feeling a little snacky after the last bell? The Cabin Coffee Café has a wintery, log-cabin-in-the-mountains feel, with board games, a fireplace, and a friendly staff to distract you from the Arizona sun pounding the pavement just outside the door.
While some students might enjoy the boring, mundane, and basic coffee grab-and-go's, like Starbucks, Dunkin' Donuts or Dutch Bros, Cabin Coffee offers a wider variety. At this North Phoenix cafe, the warm mugs are filled with Cabin's signature latte and the house-made, slow-steeped cold brew, sweet and rich and has the ability to help you ace that test and take over the world. 
With over 60 flavor mix-ins available and all the milks you can dream of at Cabin, the kind faces behind the counter will make your drink any way you like it or recommend their favorite seasonal specials. Their personal favorite: the pumpkin pie iced latte. Yum! 
Scene: The warm glow of the yellow lights greets you at the door. With a fireplace to your left and seasonal decor scattered around the room, the cozy and comfortable vibes will make you feel right at home. Plenty of tables and high top seating allows for an easy space to hunker down and crank out your abundance of homework and essays. And with plenty of snacks and caffeinated drinks to keep you company, you will never feel alone. 
Coffees: Visit any restaurant or fast food place and you will find a common coffee. Cream and sugars are available and everything ends up screaming "BORING!" At Cabin Coffee, the 'Rustic Latte' is special to this cafe, available with honey or any of the 60 flavor combinations (medium, $3.30) . The 'Avalanche', a sweeter blended drink made with the house-made cold brew, includes flavors such as caramel-mocha, chocolate mint, and caramel & vanilla (medium, original, $4.25). So come grab a cup of joe, chat with a friend, and cozy up next to the 'fire' in one of their leather, lounge chairs. 
Food: A large assortment of breakfast items are available, such as the breakfast burrito, with scrambled eggs, potatoes, bacon, and cheese, or an acai bowl, with fresh acai topped with granola, strawberries, bananas, coconut, and a light honey drizzle. With delicious plain, everything, whole wheat, or gluten free bagels served with cream cheese, hummus, or peanut butter, your cravings will, undoubtedly, be satisfied. 
The Cabin Coffee Café offers a wide variety of tasty treats and eats, and will get you out of a sleepy haze with the first sip. This coffee shop, with its cozy cabin feel, is the perfect neighborhood spot to put a coffee in your hand and a smile on your face.
Contact Them & Visit!
Cabin Coffee Café 
Hours: 6am-5pm : Monday-Saturday, 7am-3pm : Sunday 
Where: 6525 W Happy Valley Rd, Glendale, AZ 85310
Phone: (623) 566-0118‬
Website: cabincoffeecafe.com 
WiFi: free (password is available inside)
Stars: 5 (out of 5), based on drinks, service, and atmosphere 
Editor's Note: "Their Apple Cider Seasonal Drink comes with caramel and is a real treat, I recommend it!" 
Leave a Comment
About the Contributor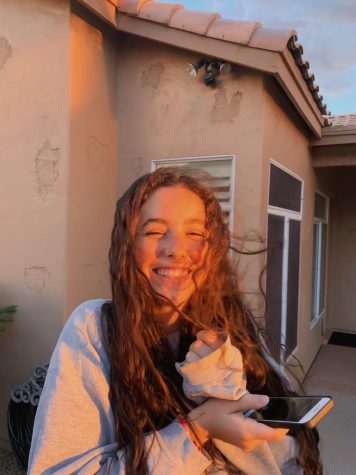 Molly Bomar, Co-Editor in Chief
Molly is a senior and it's her third year working for The Ridge Review; she's one of our more passionate editors and creative writers. She enjoys playing beach volleyball, being involved in Student...