Poke Maki
Stop by this new, delicious restaurant!
Three months ago, a local business opened up on 59th Avenue and Bell Road. Serving up sushi, ramen, poke bowls, and other delicious and fresh foods, Poke Maki currently stands at a 4.6 star rating. The business is managed and owned by Willy Tanzil, John Loi, and Kelly Yu, who is also the manager of two Kawaii restaurants. According to some google ratings, individuals commented on the friendliness of the staff, the fresh taste of the food, and highly recommended the restaurant. Upon entering into Poke Maki, you are greeted by a fun, modern-looking environment, and welcoming smiles.
There are several options when it comes to the menu. There are currently 3 styles of ramen: miso, tonkotsu, and vegan. All of them are extremely delicious, my favorite being the tonkotsu ramen which consists of corn, noodles, pork broth, chashu (pork belly), scallions, nori, and egg. Other options include their sushi menu. There are a variety of sushi dishes to choose from such as California rolls, vegetable rolls, spicy salmon rolls, and more. However what stands out incredibly on the sushi menu are the sushi burritos. This item comes with fresh sushi rolled up into one huge roll. You also have the option of getting the burrito rolled in Takis or Hot Cheetos, for an extra hot and crunchy flavor. Then, customers also have the option of ordering a poke bowl (my favorite menu item). With this item, you can customize your own bowl with your selection of a base, protein, sauce, and toppings. Typically when I order a poke bowl, I get sushi rice, fried tofu, eel sauce (which is a sweet, thick sauce), and I top it off with edamame, pickled daikon, massago, avocado, and furikake (a Japanese cracker seasoning). While I would recommend the eel sauce to those of you with a bit of a sweet tooth, the most popular sauces include the house sauce, and the regular, or spicy, ponzu sauce. Two new appetizers have been recently added to the menu, fried gyoza (pot stickers filled with pork and vegetables) and shrimp tempura (fried shrimp). Both of these are new favorite of mine. The gyoza comes with a sauce that was perfected by Willy T himself. Many costumers have considered the sauce that comes with this menu item to be too sour at other restaurants, but Willy's sauce isn't like that.
Poke Maki also brews their own house teas, which can have boba added to them. Flavors include Thai, mango, and green. My personal favorite is the mango tea with a little bit of boba. Both the Thai and mango teas are sweet, however the green tea is organic and unsweet. Customers can also get Japanese sodas and Calpico (a sweet, yogurt-like drink).
The price of the menu items can seem to be a bit high; however, they make up for the filling portions and are worth the delicious and fresh food. All in all, Poke Maki is a very high quality establishment. Coming from someone who works there, I can guarantee that you will receive quality service and amazing food!
Leave a Comment
About the Writer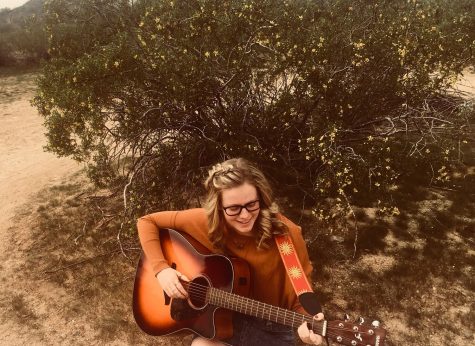 Emma Padelford, Editor-In-Chief
She is currently a senior and it's her third year in Digital Communications. She has developed a huge passion for writing over the past few years by being an editor and a journalist. She appreciates...