Superteams Swamp Sports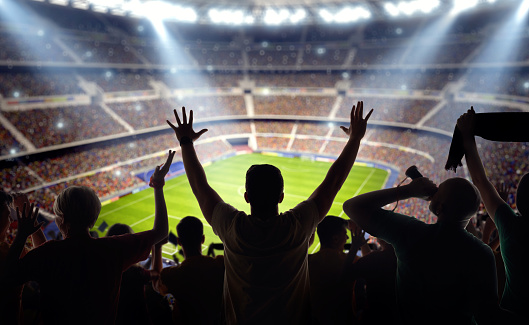 The TV flips on to a sports game where vibrant fans fill the crowd of their respective teams. In the sea of the team's crowd, you can spot new customized jerseys of household named player, now in the colors and threads of the home team. Who would have thought these stars would all be blanketed by the same team logo in the given season or that such a power shift could take place on the highest athletic stage tailored to the media.
This is a strange new phenomenon presenting itself in the sports world come the twenty-first century. Now fans are having to become accustomed with a new managerial strategy in sports that is commonly called: "super teams"in sports lingo.
"Super teams" are teams that try to attain elite status by acquiring high-caliber players assembled in free agency or trades over traditional drafting. Over the last handful of offseasons, star players have chosen the promise of playing with other star players over loyalty to their previous team. 
Lionel Messi, leaves Barcelona to join PSG who already have Neymar Jr. and Mbappé in summer 2021. Kevin Durant, takes his talents to the Brooklyn Nets over his championship winning super team on the Warriors in 2019 along with Kyrie Irving. The Broncos were able to sign Peyton Manning, Emmanuel Sanders, Demarcus Ware, Aqib Talib, and TJ Ward in 2014. The Dodgers traded for star right fielder Mookie Betts in the spring of 2020 to join the great players of  Cody Bellinger and Clayton Kershaw that would lead to a 2020 World Series Championship. All teams instantly became contenders and forces that hover over divisional awards due to their combination of star power. 
This trend has become an appeal to the many athletes of the world. Leagues who used to see talent spread across the clubs in a sort of even wave, now see some with a dipole of super athletes. The others are left with second hand average talents and have to fend for themselves.
The unfortunate matter is that there is a pace of financial splurges that the average teams in a league can not keep up with. The richer teams that are highly marketed to fans, teams that already consistently make the playoffs, or that are harbored by a big city full of cash have a better chance at attracting players. 
This means that superteams follow a popping pattern in the world. The rich get richer. The Sacramento Kings NBA team is worth $1.8 billion and is represented by players like Marvin Bagley III and De'Aaron Fox. In comparison, the Los Angeles Lakers are worth $5.14 billion dollars and get stars like LeBron James, Anthony Davis, and Russell Westbrook to wear their jersey. The richer owners and sports teams are able to add to their wealth by gathering their stars to grow the profit of their team further as they have more available money to distribute. 
The disproportionate ratio of the super teams to an average team, who lacks a head named star (as they all are now joined on one team), leads to blow out games that honestly are better respected with the TV turned off. What's the point of always rooting for an upset or the underdog when sports really shouldn't have to be set up that way to start?
So, do these new concoctions of flashy talent have to do with wanting to join other talent and make it so losing is an afterthought, a blue moon experience, and never bet upon or is there some sort of alternate urgency to win? 
The struggle might cypher down to the fact that teams have to make the choice of either giving their superstar player a maximum, multi millionaire deal to keep them on their team or risk them taking the door in free agency that allows them the chance to team up with other league stars. The money that they overspend to keep their headliner might lose their supporting role cast's salaries, but if they do let him walk they forfeit the face of their franchise and the fans that solely support the star.
A great example of this loyalty would be Arizona's very own Coyote's captain Shane Doan, who spent 21 years playing for the desert team. He took less money, deal cuts, and humble compromises to choose loyalty over the mega team mania happening in other outlets of sports in this day and age.   
"It hasn't even crossed my mind. It's not even something I'm thinking about. I don't foresee me ever making that decision," Doan explained to AZ Central in December 2014 in consideration of flaunting another team name across his jersey. 
On the other hand, superteams may be on track to destroying the integrity of the leagues that are plaguing them as win columns inflate for some while the losses become an unwelcomed friend to the average others. 
"You start seeing all the stars try to get together on the same team, but I think it's going to start to hurt the overall aspect of the league from a competitive standpoint. Only two teams will be great and the other 28 will be garbage," Michael Jordan explained in an interview on "The Sports Rush."
Overall, the paining impact that resists the stars' master plan to unite, is what kind of impact does the impression of the changing sports have on the younger audiences.
With the youth who sit eagerly in front of television screens come game day, the superstar teams are going to inevitably attract the most attention. These kids are learning, in a developmental stage, that winners need others to lift them up. They are being taught that winners don't tough it out in their situation, but once the first chance is given, they take the greener grass on the other side of the fence. They jump ship in hopes that their new team and power teammates will reap them rewards, which will translate to our future generations, which isn't an ideal scenario.
"Super teams" are not only inhibiting sports and the competition level it presents, but also the next generation of fans who are shaped by the hours of sports they fill their freetime with. The lessons that used to be valid are skewed by the new era of teammate combos that unfortunately has a toll with unseen impacts. The only success these sports teams have is that their sports gear stores get new merchandise to overpopulate with new names that will grow their profit. But along with superteams and new jerseys, comes bandwagons that also hurt longtime fans' credibility. 
It's starting to look like "super teams" can be easily confined to a mistake in the sports world and a mission fans should look to not support.
What happened to winning the good ole fashion way? I guess we have to look back to older sports generations as this new one certainly overlooks it thanks to these "super teams."